Six-year-old Hendry Williams was keen to start playing soccer, but almost didn't because of the colour of his skin.
Adopted at seven months from his
Vanuatu
birthplace, it would be at his first soccer coaching clinic that the veil would slip on the innocence of childhood.
"Hendry's noticed that he's not quite the same colour as the rest of us in his family," says mum Jonica Williams.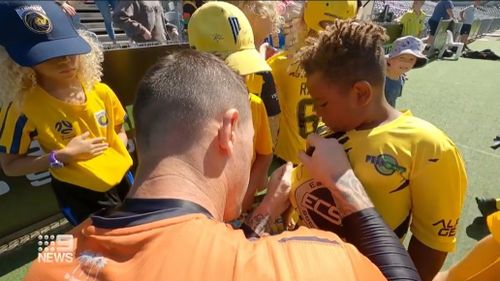 "He didn't want to join in because he didn't look like everybody else, and just nobody could convince him. He's just been really unsure, I think, of where he fits into the world."
Luckily for the Williamses and for Hendry, word of his plight would reach
Central Coast
Mariners player Storm Roux.
"A friend of mine got in touch about Hendry's story," says Storm, "all I did was let Brian and Hally know about it and made sure they went and saw him after the game."
Hally is Mariners defender Dan Hall, born in Fiji and adopted here.
"Storm told me about Hendry's situation and, you know, it's quite similar to my own," says Dan, "I learnt that it's unique and something to be proud of."
And Brian is Brian Kaltak, who was also born in Vanuatu.
"When I see Hendry, I see myself, you know, 20 years ago, when I first moved over to New Zealand."
Both players making sure they would find Hendry at their home games in Gosford during post-match fan meetings.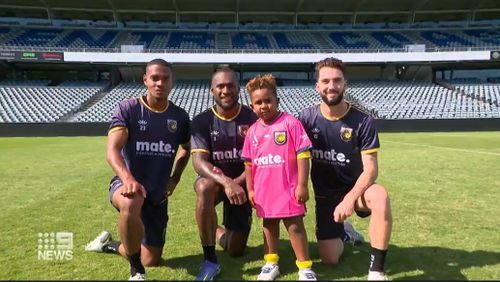 However, a plan to meet Brian at Hendry's first game would have to be abandoned after Brian picked up a red card.
"I was, yeah, sent to the changing room," says Brian, with just a hint of embarrassment.
Luckily, Dan would meet Hendry, spending half an hour with him on the sidelines. Brian would get his chance with Hendry at the next home game.
"He completely changed after that," says Jonica, who adds that Hendry is now ready to go on Saturday mornings.
The family grateful the fellas from the Mariners stepped up to help, and did so off their own bat.
"You know, I guess Hendry just really didn't have the opportunity to see himself on the football field, and now he has."
Sign up here
to receive our daily newsletters and breaking news alerts, sent straight to your inbox.