Four people, including an up-and-coming American football star, have been killed in a shooting in Alabama.
A further 28 people are injured – and officials say some of them are in a critical condition.
The incident took place at a teenager's 16th birthday party late on Saturday evening in the city of Dadeville, in Tallapoosa County – about 60 miles (100km) northeast of Alabama's state capital Montgomery.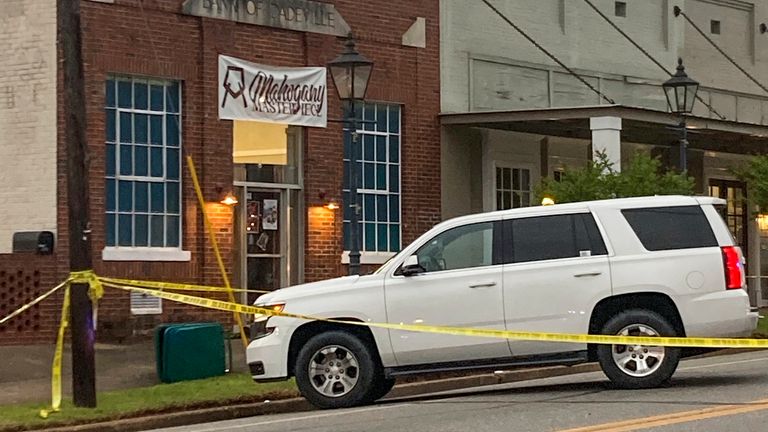 It was not immediately known if a suspect was in custody, but officials said the gunman was no longer a threat to the community.
"We're going to continue to work in a very methodical way to go through this scene, to look at the facts, and ensure that justice is brought to bear for the families," said Jeremy Burkett, a sergeant with the Alabama Law Enforcement Agency.
Among those killed was a football player who had just signed with Jacksonville State University.
Philstavious "Phil" Dowdell was celebrating at his sister Alexis's party before he was shot to death, his grandmother Annette Allen told The Montgomery Advertiser.
"He was a very, very humble child. Never messed with anybody. Always had a smile on his face," Ms Allen told the newspaper, calling it "a million-dollar smile".
He had received offers from multiple universities but proudly declared his decision to attend Jacksonville on 1 February.
Head football coach Rich Rodriguez at Jax State University, where the high school senior had been signed to play, said it was "heartbroken" at the loss of the promising player.
Mr Dowdell's mother was also hurt in the shooting.
Speaking at an earlier news briefing, Mr Burkett confirmed the shooting was "tied to a birthday party" – and urged members of the community with information to come forward.
"There were four lives, not fatalities, lives, lost in this incident," he said, as well as a "multitude of injuries".
"We're going to continue to work through in a very methodical way to go through this scene, to look at the facts and ensure that justice is brought to bear for the families. We will do that," he added.
Dadeville's mayor, Frank Goodman, said the scene at a nearby hospital was "chaotic".
"There were people running around. They were crying and screaming," he said. "There were police cars everywhere, there were ambulances everywhere. People were trying to find out about their loved ones. That was a scene, where we never had anything like this happen in our city before."
Read more:
The US gun problem is staggering – and getting worse
America's problem with guns stands alone
'We won't let this tragedy define us'

Superintendent Raymond Porter added that counselling will be provided for students at school on Monday.
"We will make every effort to comfort those children and don't lose sight of the fact that those are the ones most impacted by this situation," he said.
In a statement, President Joe Biden asked: "What has our nation come to when children cannot attend a birthday party without fear?"
He added that gun violence in the US is "outrageous and unacceptable" – and urged politicians in Congress to pass laws that could shift liability to arms manufacturers, ban assault weapons, require safe storage of guns, and more background checks.
WRBL-TV reported that the attack took place at a dance studio, with the station showing images of crime scene tape around the venue and neighbouring buildings, as well as a heavy police presence.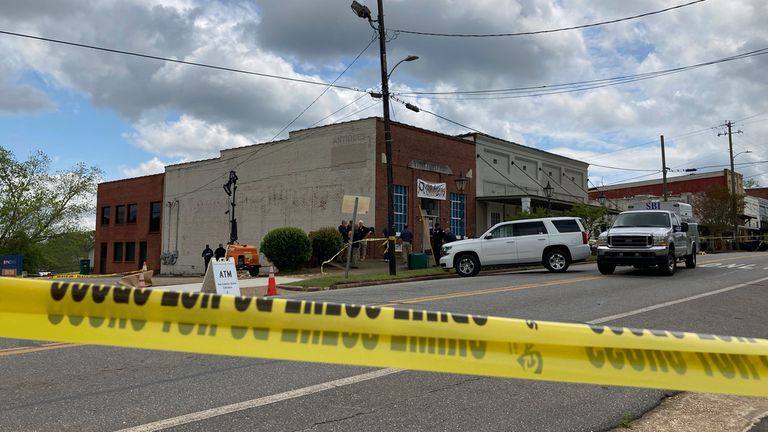 Pastor Ben Hayes, who serves as the chaplain for the Dadeville Police Department and for the local high school football team, said most of the victims are young because the shooting occurred at a teenager's birthday party.
He said the shooting rocked the small town where serious crime is rare – and described one of the victims as a "great guy".
"I knew many of these students," he said. "Dadeville is a small town and this is going to affect everybody in this area."
The Alabama Law Enforcement Agency said the shooting happened at about 10.30pm on Saturday and gave no information about a possible motive.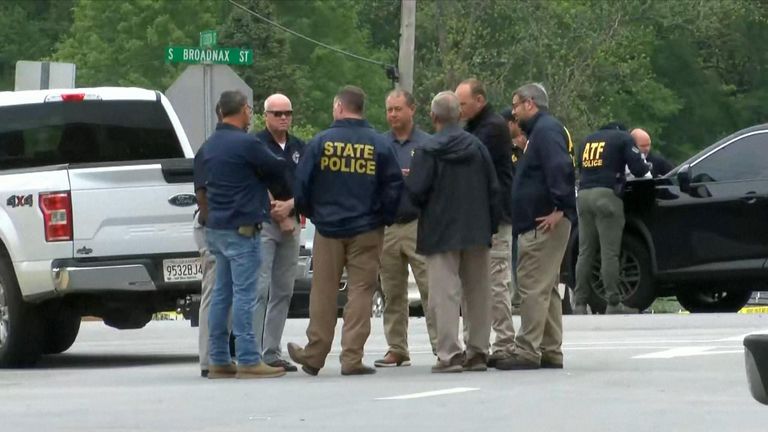 The FBI, the US Bureau of Alcohol, Tobacco, Firearms and Explosives, and the Fifth Circuit District Attorney's Office had also responded to the scene and were assisting with the investigation.
Alabama Governor Kay Ivey said in a statement: "This morning, I grieve with the people of Dadeville and my fellow Alabamians.
"Violent crime has no place in our state, and we are staying closely updated by law enforcement as details emerge."
December 2022: The true scale of America's gun problem

Dadeville is a small city of about 3,000 people.
This is at least the second time in recent years that multiple people were shot in Dadeville. Five people were wounded in July 2016 during a shooting at an American Legion hall, and a man was later charged with five counts of attempted murder, news outlets reported.
There have been 162 mass shootings in the country so far this year, according to Gun Violence Archive.
The Dadeville shooting occurred within weeks of two high-profile mass shootings in the nearby states of Tennessee and Kentucky, which prompted local leaders to call for tighter gun control measures last week.
Click to subscribe to the Sky News Daily wherever you get your podcasts
A bank employee shot dead five colleagues and wounded nine other people at his workplace in Louisville on Monday.
On 27 March, three nine-year-olds and three staff members were killed at a private Christian school in Nashville, Tennessee, by a former student.